The international community gathers in Monaco for the IHO Assembly
Published: 30/05/2023 - 09:53
Representatives of the International Hydrographic Organization Member States, observers, and private sector, gathered in Monaco from May 1-5, 2023. The Assembly provided a forum to come together, discuss new developments in technical standards, and ocean mapping, and agree on resolutions to guide activities. Key decisions this year included the future of nautical charts and steps to ensure the ongoing transition to digital products and data services.
Countries also approved the resolution recognizing the existence of the "Southern Ocean" around Antarctica and setting its northern geographic limit at 60 degrees latitude South, while duly acknowledging national positions and possible reservations. The IHO first recognized the Southern Ocean in 1929. This was followed by several decades of disputes on its geographical limits and queries challenging its existence, resulting in it losing its recognition in 1953. In light of the now well-established global use of the term "Southern Ocean" by geographers and the scientific community, this resolution aims to solve this long lasting issue.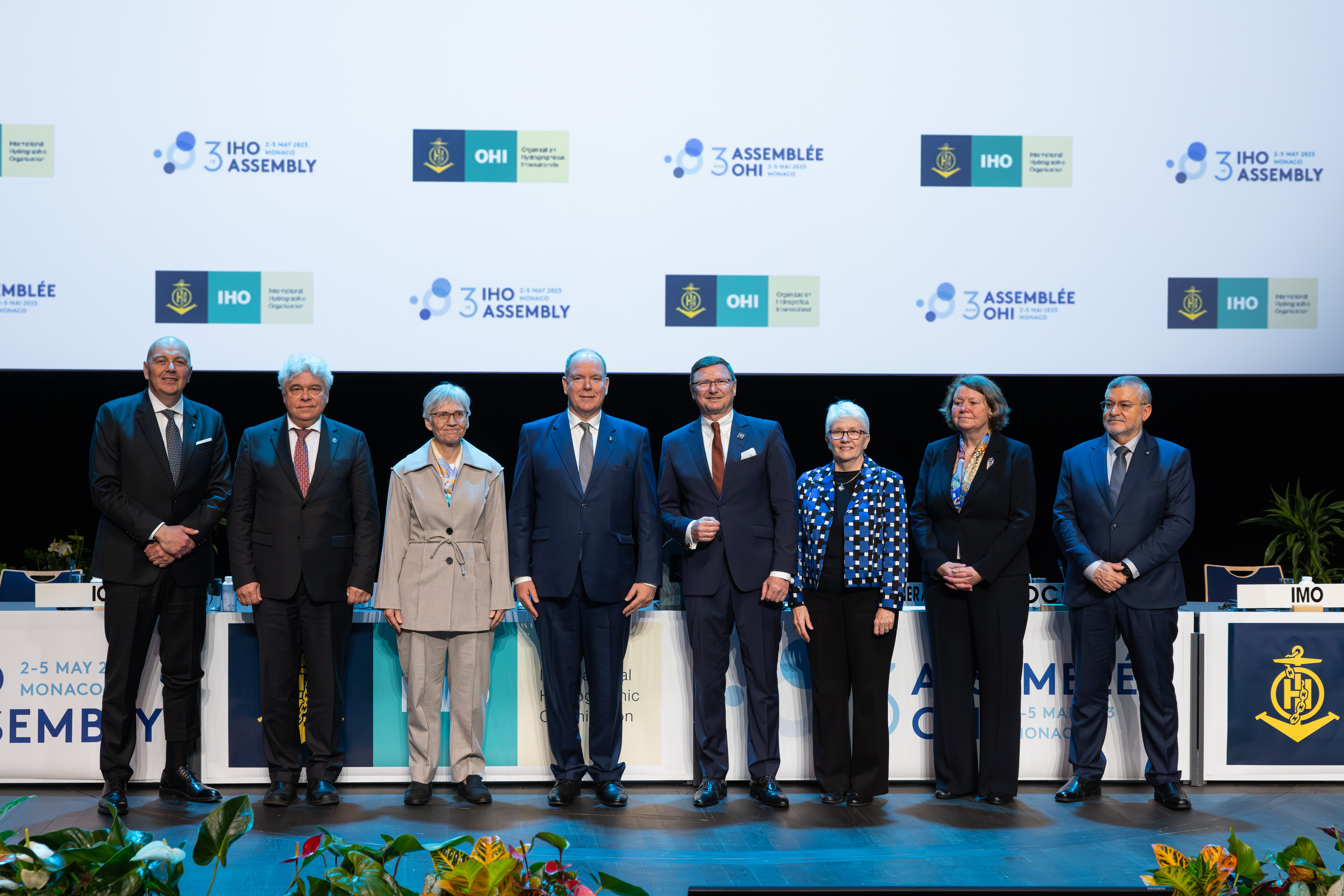 A key attraction of the Assembly was the Member State and Industry Exhibitions which showcased technology and expertise from around the world. The theme of the Member State Exhibition was "Mapping the marine environment in the Ocean Decade" and highlighted how mapping the ocean can contribute to its sustainable use. The United States brought NOAA Science On a Sphere® which uses computer and video projectors to display planetary data on a 2-meter sphere in an interactive way. It can project over 1000 data sets including visualizations of ocean currents, temperature, and coral bleaching.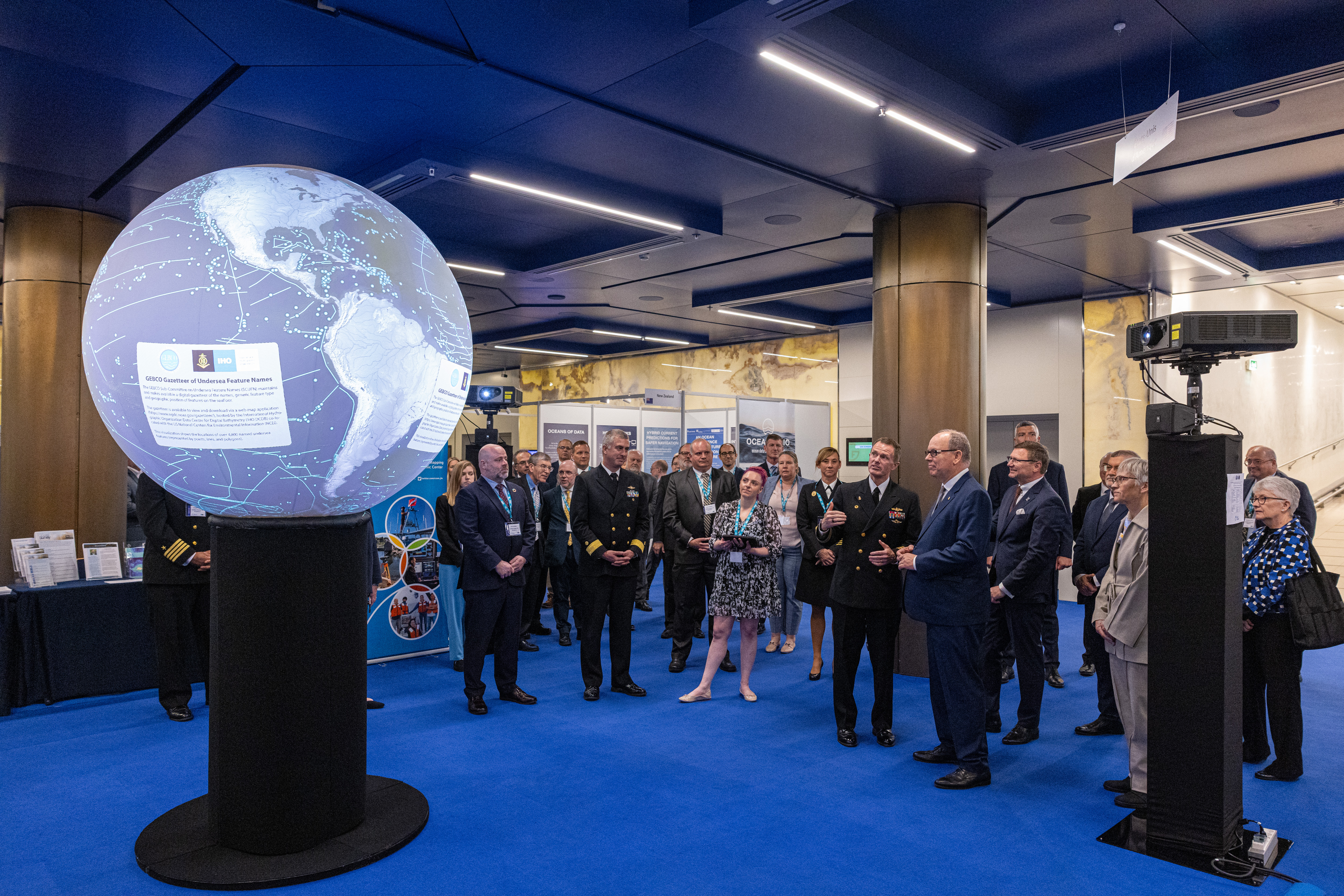 A 100m long, state-of-the-art survey and research ship, the USNS Bruce C. Heezen from the United States, came to Monaco for the occasion.
Leading survey and technology companies as well as chart providers had stands at the Industry Exhibition. Several drones, autonomous and uncrewed vehicles were on display, including a Saildrone Explorer, similar to the one which sailed inside a Category 4 hurricane, sending back high-resolution images and video in near real-time. Saildrone Explorers can stay at sea for up to a year, with the longest mission so far sailing from Rhode Island USA to Cabo Verde, to the Equator, and back, sailing 11,910 nautical miles in 370 days.

There was also a DriX, an 8m uncrewed surface vehicle (USV) that can conduct hydrographic surveys as well as subsea asset positioning. Equipped with advanced sensors (radar, lidar, cameras…) and its own artificial intelligence, DriX analyses its environment, avoids obstacles and carries out its missions autonomously. The USV can autonomously map large areas in a reduced amount of time, helping increase the understanding of the oceans. Lighter than traditional vessels, DriX helps reduce the environmental footprint of hydrographic surveys. Compared to traditional survey vessels, it decreases fuel consumption and greenhouse gas emissions by a factor of 50 and reduces radiated noise for greater respect of marine wildlife. Exail also brought an A18D Autonomous Underwater Vehicle (AUV), a 5,5m long submersible for deep water applications that can operate down to depths of 3000m to conduct accurate mapping, sonar imaging and high-resolution surveys of the seabed.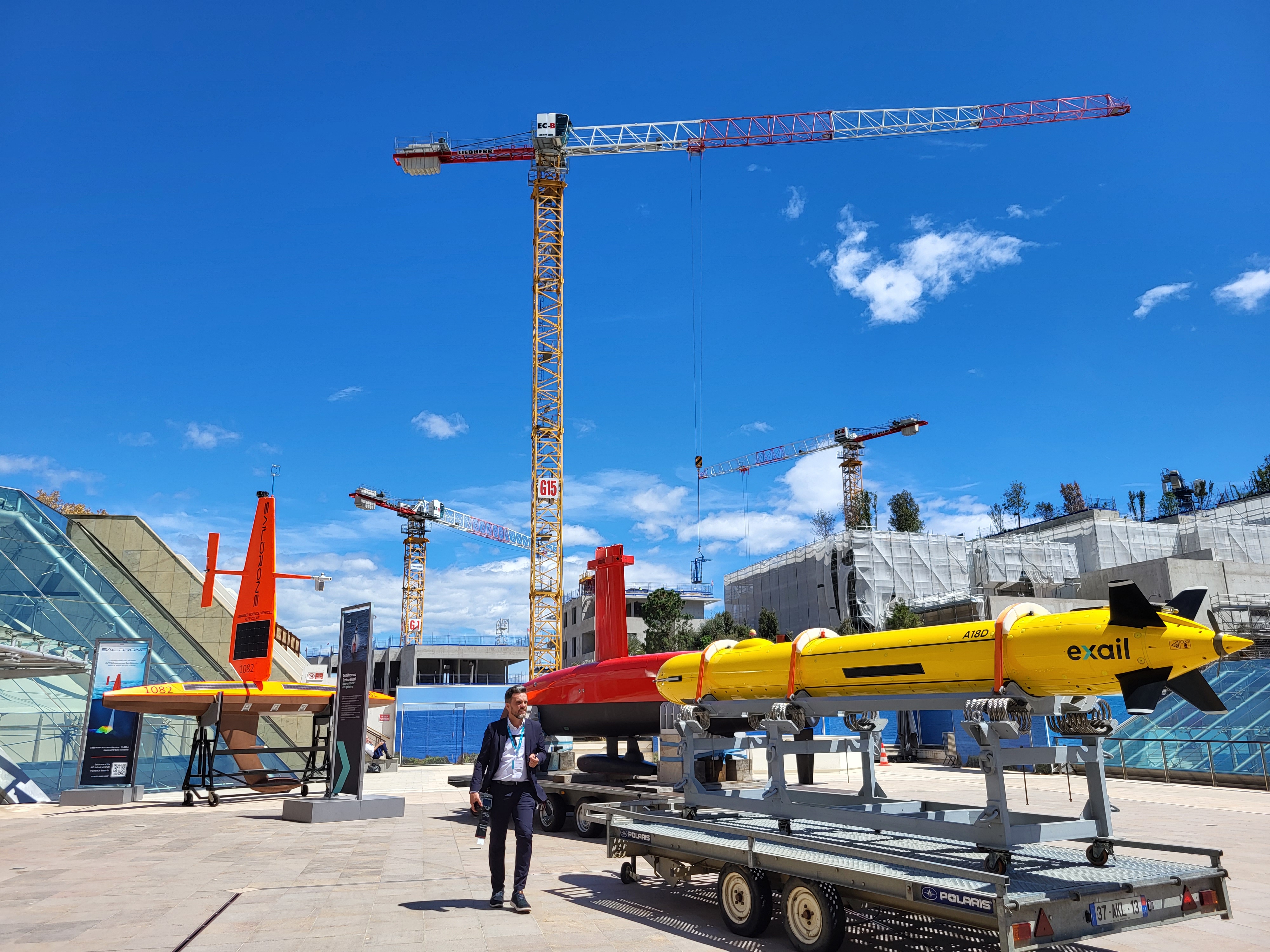 The opening session on 2 May featured keynote speakers HSH Prince Albert II of Monaco and Dr. Kerri-Ann Jones, Deputy Secretary-General of the OECD who both highlighted the expanding role of hydrographic information which support the Sustainable Development Goals (SDGs), most notably Goal 14. In order to monitor changes in the ocean and implement effective initiatives for their conservation, we first need to know the marine environment and have reliable data. During Assembly, it was announced that an additional 5.4 million square kilometres of new data - equating to an area ten times the size of France - has been added to the definitive map of the world's ocean floor, with 24.9 per cent of the seabed now mapped. Dr Kerri-Ann Jones highlighted the upcoming OECD foresight exercise "The Ocean Economy in 2045" which the IHO will contribute to, and which aims to encourage more positive international policy work on oceans. A joint OECD‒IHO ocean foresight workshop will take place in November in Monaco as part of this effort.
Speakers during thematic sessions on Thursday included Mark Heine, CEO of Fugro, which specializes in collecting and analyzing marine geo-data to support energy, infrastructure, and government decisions as well as Dr Inga Lips, of EuroGOOS, the European Global Ocean Observing System who discussed the Digital Twins of the Ocean.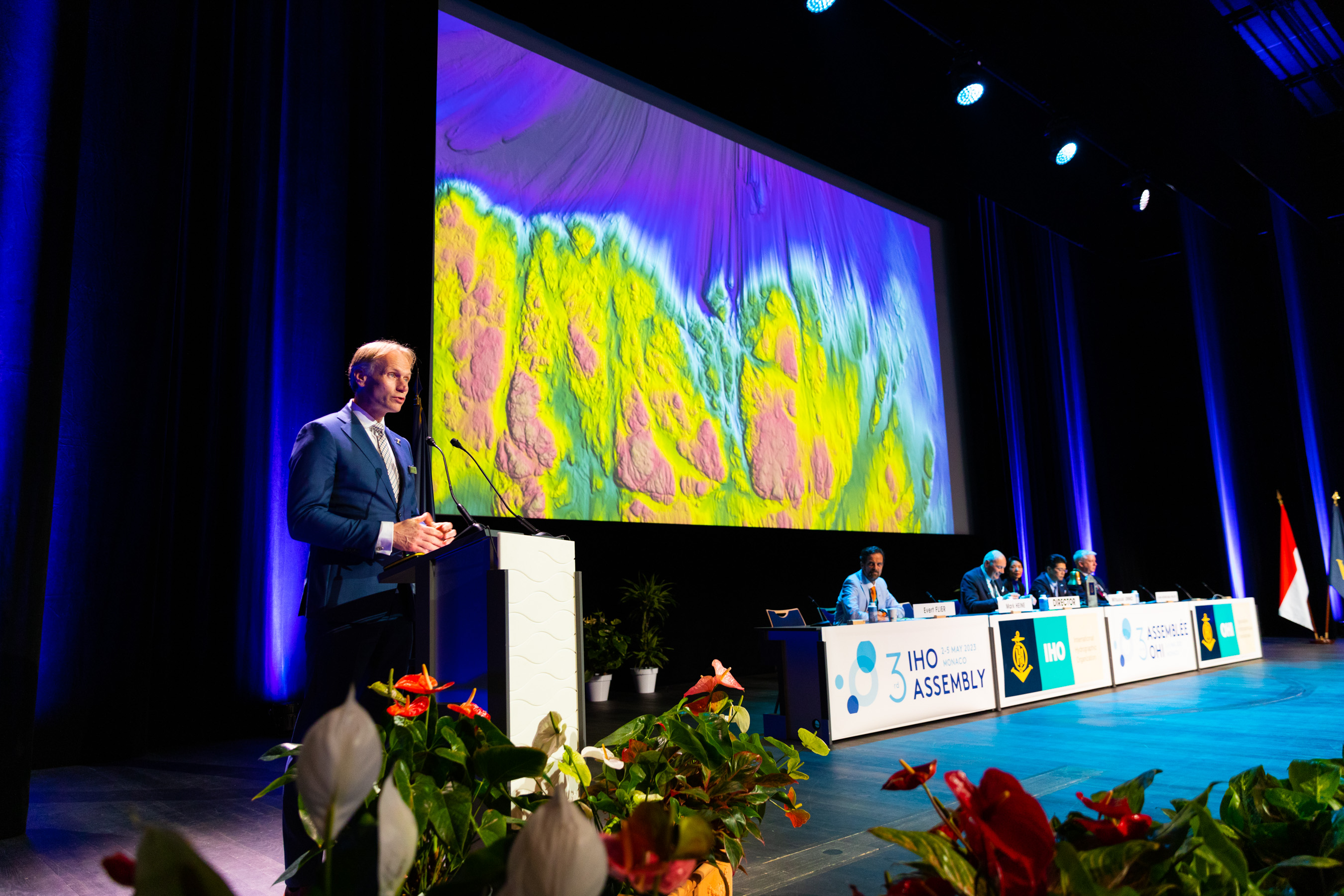 2023 is a special year as it marks both the centenary of the International Hydrographic Review, the peer-reviewed journal on hydrography, as well as the 120th anniversary of the GEBCO programme. The General Bathymetric Chart of the Ocean was first initiated in 1903 by Prince Albert I of Monaco. With data on seabed topography being used to better understand climate change, marine habitats, the movement of pollutants, tsunami wave propagation and more, having a good map of the oceans is more important than ever.
The culmination of the week occurred on Friday 5 May when Member States re-elected Dr. Mathias Jonas (Germany) as Secretary-General for a term of office of three years and Dr. John Nyberg (USA) to a post of Director for a term of office of six years, two key positions which guide the direction and activities of the Organization.
Quotes:
HSH Prince Albert II of Monaco
"More attention needs to be paid to hydrography. As well as the traditional role of hydrography in supporting navigation, today it is required to make an increasingly in-depth contribution to the protection of the marine environment and coastal zones and sustainable exploitation of fish stocks."
Dr Mathias Jonas, Secretary-General, IHO
The IHO is among the few intergovernmental organizations that can claim that its resolutions, standards and guidelines are universally and effectively implemented. It has always done this by considering
what can we do together that we cannot do separately, since no single nation can deliver on its own the hydrographic capacity we need for the oceans and seas we want.
Mark Heine, CEO, Fugro
"Knowing the shape of our ocean floor is critical to a healthy and resilient ocean and a robust and sustainable blue economy, but I would go further. It is also fundamental to our existence on earth, for future generations and for our planet. Right now, Industry needs to come together and follow our lead in sharing valuable ocean data for a fully mapped ocean and ultimately a safe and livable world."
Ms Pia Dahl Højgaard, National Hydographer of Denmark & chair of the IHO Assembly
"We have quite some work to do to fulfil the needs and expectations of our users. We need to make our knowledge and data productive. At this Assembly we have very important decisions to make together, decisions that will bring forward our common endeavours to serve society with charts and interoperable data on the oceans and waters. Data that can ensure safe and efficient navigation. Data which will enable politicians, scientists and the public at large to take good decisions on the sustainable use and preservation of our oceans."
Dr Kerri-Ann Jones, Deputy Secretary-General, OECD
"Learning more about the seabed will help us develop more effective policies. The global mapping of the seabed can help lead to new scientific discoveries and contribute to the development of conservation strategies to balance economic interests with the protection of ecosystems."
Dr Heike Deggim, Director, Maritime Safety Division, IMO
"International cooperation in the field of hydrography goes back a long, long way, which serves to emphasize how relevant IHO has been, is, and will continue to be, as we move into a future driven by the potential of digital technology."
Contact
Sarah Jones Couture
Public Relations and Communication Officer
---
Last modified: 30/05/2023 - 11:21