The XIII Trans-Regional Seapower Symposium discusses hydrography's role in a sustainable Blue Economy
Published: 13/10/2022 - 15:53
The IHO participated in the XIII Trans-Regional Seapower Symposium held in Venice, Italy from 5-7 October to discuss the IHO's tasks, mission and challenges within the UN Ocean Decade. Organized by the Italian Navy and hosted in the historical setting of the Arsenal of Venice, the symposium provided an open and inclusive forum where navies, industries, public institutions, academia and international organizations engaged in across-the-board debates involving the diverse community of players in the national and international marine cluster.
This year's main theme, "A blue cluster approach in the Ocean Decade," stems from a shared belief that the maritime domain plays an undisputed role in the global dynamics of security and sustainable economic growth. Opening speeches emphasized the centrality of the seas and oceans, the importance of dialogue and cooperation and the necessity of a holistic approach to the ocean from all stakeholders. The ocean is a vital resource to preserve for future generations and plays a key role in mitigating the impacts of climate change. The blue cluster approach is paramount to contributing to the security of shipping in the world's hotspots and to preserving biodiversity.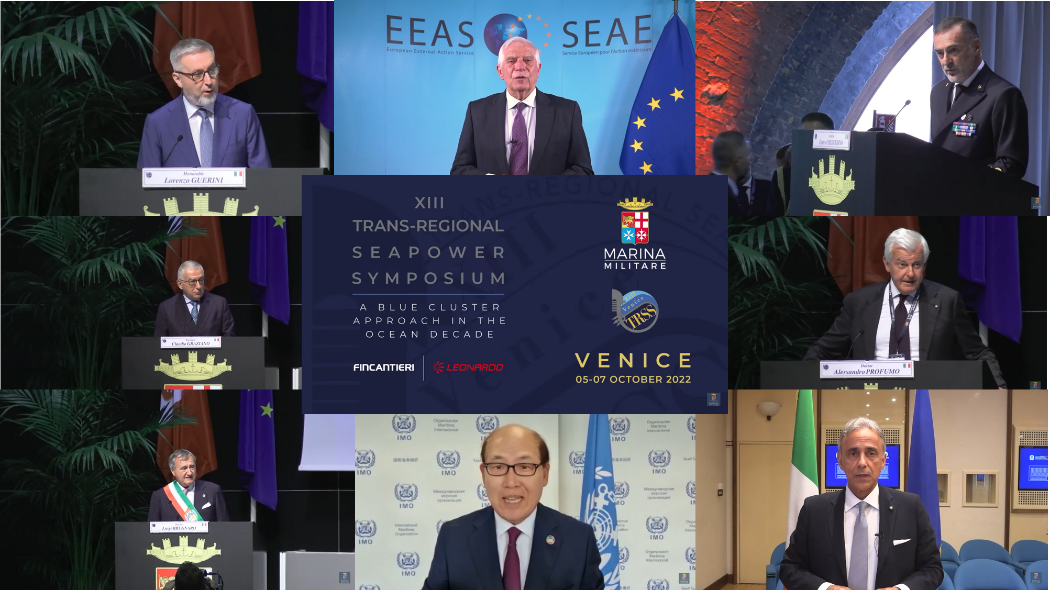 Three thematic panels emerged: "Protecting our oceans, for a sustainable, resilient, and inclusive Blue Economy", "Developing technology and capabilities in a competitive age" and "From Naval Power to Maritime Power: integrating efforts in a whole-of-nation multidimensional approach."
Speaking on the second panel, IHO Director Luigi Sinapi raised awareness about the key role hydrography plays in supporting sustainable development and in gaining a competitive advantage in the Blue Economy.

Hydrography – now more than ever – plays a key role as a capabilities multiplier for all in protecting our oceans and for a sustainable, resilient, and inclusive Blue Economy. Hydrography and derived products open up new opportunities in all maritime sectors, highlighting how important it is to invest in the hydrography sector to provide a competitive advantage in action on the maritime domain understood in the widest sense of the term."

Luigi Sinapi, IHO Director
In his closing remarks, Chief of the Italian Navy Admiral Enrico Credendino reiterated the ongoing relevance of hydrography.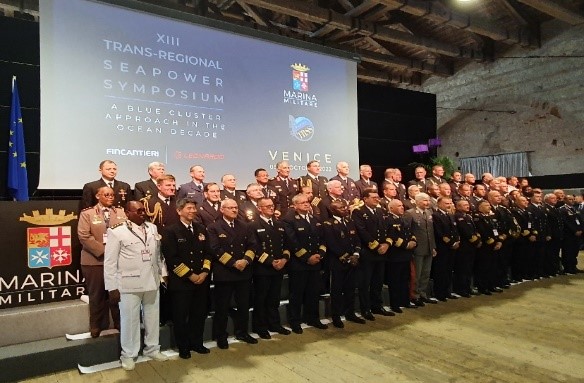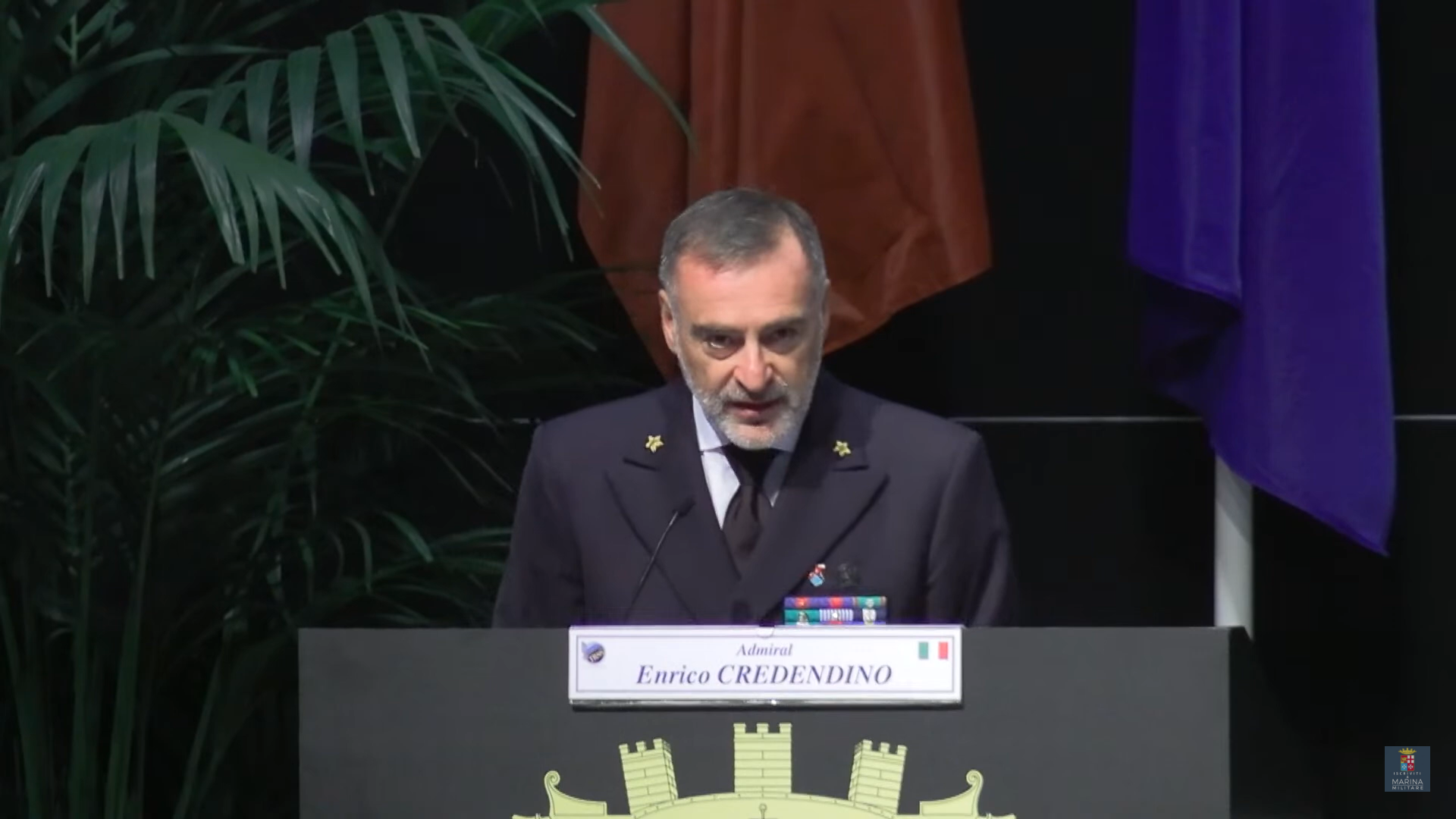 Left: The Chiefs of the Navies at the XIII Trans-Regional Seapower Symposium, Right: the Chief of Italian Navy Adm. Enrico Credendino emphasizing the importance of actions to overcome "sea blindness" and push the Blue Economy
Along with the conclusions that were drawn during the discussions, the Chiefs of the Navies, gathered in Venice for the thirteenth Trans-Regional Maritime Symposium, drafted a joint statement to raise the attention of the international community on the need to commit every effort to address the maritime dimension with a holistic, transversal and inclusive approach.

Chief of the Italian Navy Admiral Enrico CREDENDINO – Closing remarks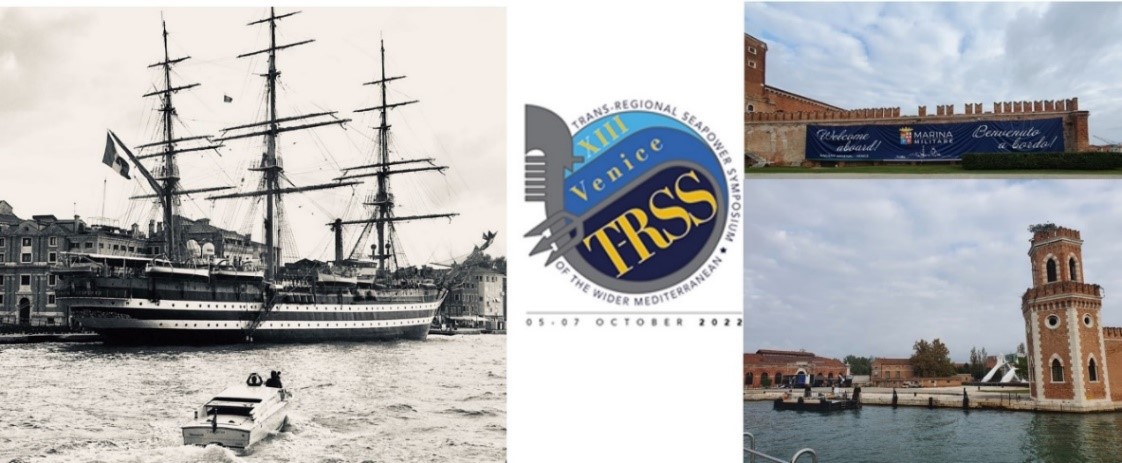 ---
Last modified: 19/10/2022 - 07:39