The importance of mapping the ocean is highlighted at the 32nd Session of the IOC UNESCO Assembly
Published: 06/07/2023 - 11:28
As part of its mission to "participate actively in international initiatives related to the knowledge of the sustainable use of the ocean," the IHO participated in the 32nd Session of the IOC UNESCO Assembly held in Paris, France from 21-30 June 2023. In addition to engaging in plenary discussions in its role as an Observer, the IHO joined IOC UNESCO in celebrating the 120th anniversary of their joint project, the General Bathymetric Chart of the Oceans (GEBCO).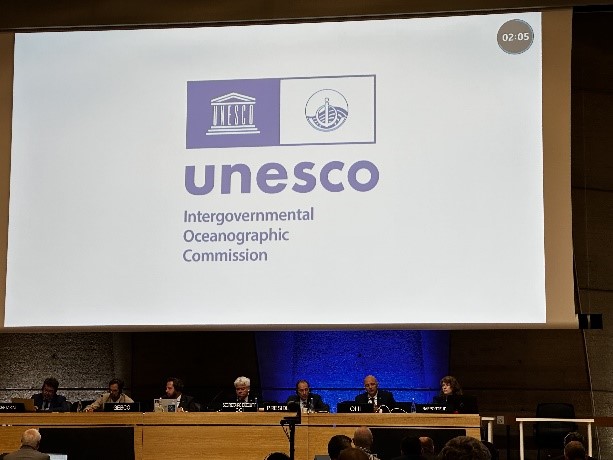 This anniversary comes at a time of increased public awareness and concern about the health of the oceans. Much of this awareness is due to high-profile initiatives, such as the UN Ocean Decade, which have brought the importance of a healthy ocean to the forefront. However, these same initiatives also point to the need of ocean data to reach their goals. As the IOC's State of the Ocean Report (StOR) 2022 declares, "There is, therefore, an urgent need for a quantitative description of the state of the ocean, with established benchmarks and the capacity to report changes."
GEBCO, the joint IHO and IOC project to collect depth-data and map the ocean, along with initiatives that facilitate this collection such as the Nippon Foundation GEBCO Seadbed 2030 project and Crowdsourced Bathymetry, can provide such scientific knowledge. The data provided by a precise map of the seafloor can be used to target actions, help feed the Digital Twin of the Ocean, and increase the impact of initiatives.
Seafloor knowledge has become one of the primary objectives for the IHO and IOC UNESCO.

Luigi Sinapi, IHO Director

The importance of mapping the ocean was stressed by keynote speakers at a reception celebrating the 120th anniversary of GEBCO. There was a consensus that the central role of GEBCO in mapping the ocean is a necessity which is driving the agendas of many international organizations and coastal and non-coastal States. Speakers also highlighted the importance of Seabed 2030 as well as the Principality of Monaco's long-standing support of GEBCO since its inception in 1903.
[Prince Albert I's] commitment to the study of the ocean has contributed to knowledge of underwater topography and the mapping of the sea floor, thus laying the groundwork for further research such as the GEBCO project.

H.E. Ms Anne-Marie Boisbouvier, Ambassador and Permanent Delegate of the Principality of Monaco to UNESCO
Earlier in the day, IHO Director Luigi Sinapi addressed the Assembly, saying that hydrography and oceanography must work united in the future as they provide a unifying framework for scientists and stakeholders from diverse sectors to develop the scientific knowledge and partnerships needed to accelerate and harness advances in ocean science.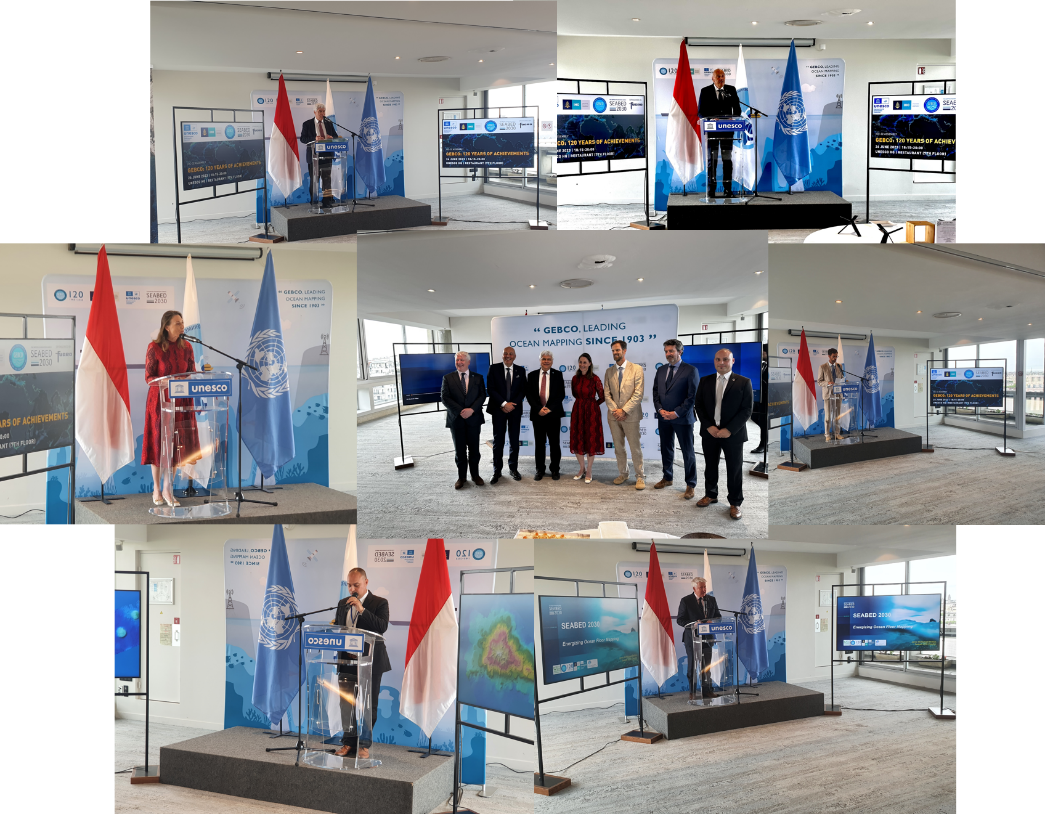 ---
Last modified: 10/07/2023 - 12:16