Empowering Women in Hydrography
Published: 05/10/2021 - 16:51
Despite more and more women working in hydrography, leadership positions are still often occupied by men. In the IHO bodies, only 13% are chaired by women. With the goal of raising awareness about the different jobs available to women in hydrography, and of facilitating them to reach leadership positions, the IHO has launched a new project to "Empower women in Hydrography".
The unequal participation of women is an issue in various STEM subjects (science, technology, engineering and maths). Yet an economic analysis showed that involving more women in STEM careers could increase a country's GDP by 10%. There are several initiatives around the world aimed at addressing these inequalities, such as the UN SDG 5 to "Achieve gender equality and empower all women and girls", the IMO's Women in Maritime etc. From a pragmatic perspective, there are many reasons to support such initiatives: encouraging diversity of any type brings different experiences and perspectives, and enriches an organization.
"The biggest challenge is men thinking there is not a problem. We could start raising awareness by having IHO Member States report on the gender distribution of their workforce in different parts of their organization and on different management levels."

Evert Flier, International Coordinator at the Norwegian Hydrographic Office and Chair of the IHO Capacity Building Committee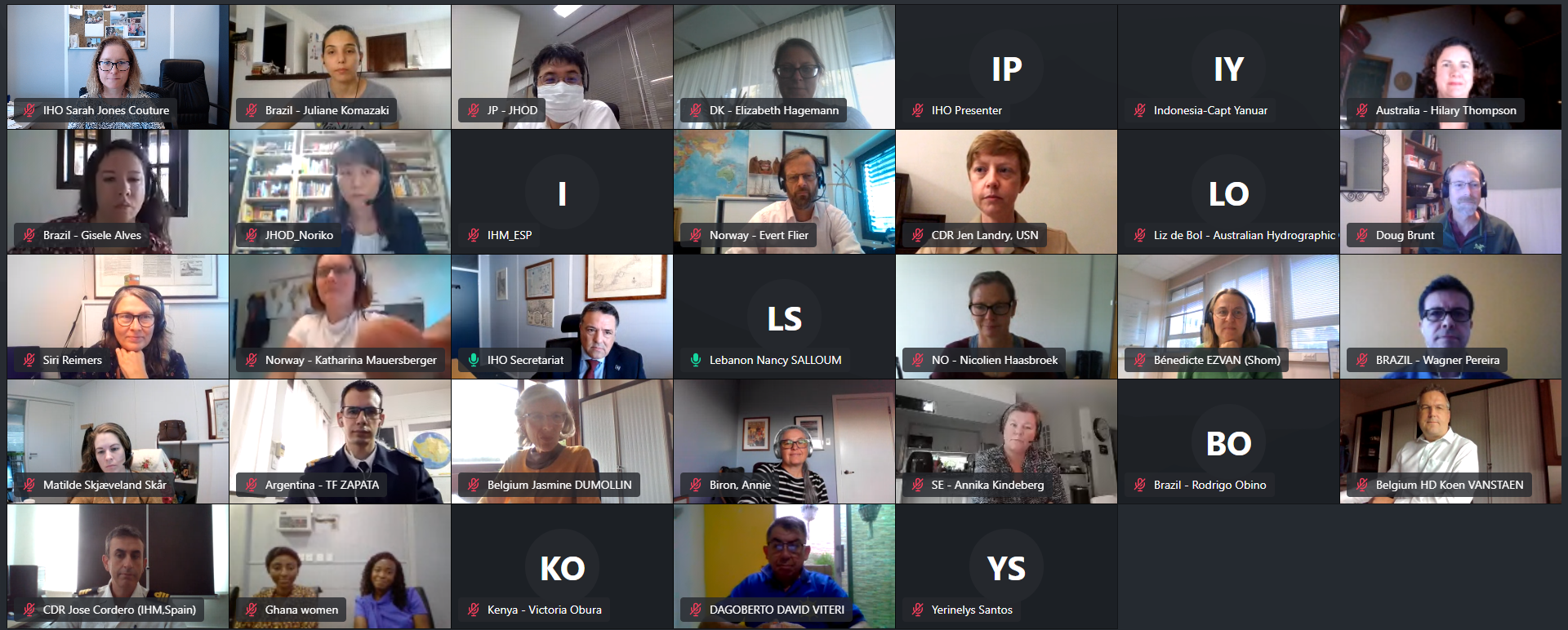 During the project kick off meeting last week, Leonel Manteigas, IHO Assistant Director, invited people to participate in the project, share initiatives they have implemented as well as inspirational stories. Member States can send these to the IHO Secretariat which will post selected ones on the dedicated webpage.
Annie Biron, Manager at the Canadian Hydrographic Service, presented some of the initiatives they had put in place to help towards an equal participation of women in this domain. One of the key steps was organizing a review of what was happening in the different offices through a series of "safe space"meetings held with women. This survey highlighted a number of issues which enabled them to prioritize actions to ensure all staff had equal opportunities. Findings included for example how some women were not getting field work assignments simply based on gender assumptions. Or how they were volunteered for administrative tasks and social event organization. It also highlighted the lack of available sizes for personal protective equipment.
"The participation, accountability and commitment from the Canadian Hydrographic Service's Executive Committee towards a more inclusive workplace has been key to the success of this initiative. Without decision-makers' support, such actions can't reach their full potential or enrich organizations."

Annie Biron, Division Manager, Data Acquisition and Management, Canadian Hydrographic Service
Several participants made suggestions for initiatives, including that IHO meetings keep a virtual element so more women can participate. It was also suggested to start reporting on the breakdown of positions based on gender at different levels. This meeting virtually brought together participants from all over the world, including Ghana, Kenya and Lebanon.
The project was formally approved by IHO Member States during the Assembly in November 2020. The original proposal came from Canada which will contribute funds over the next 4 years in addition to resources allocated by the IHO. It falls under the IHO's capacity-building programme, with the goal of providing more exposure to women and increasing their interest in and contribution to IHO bodies. This will include training and communication on different hydrographic careers. It will seek to share good practices and good experiences, but also challenges, in order to pinpoint what needs to be addressed. Ultimately this should increase gender diversity in hydrographic organizations at all levels and remove barriers for women in this domain.
Currently, only 7 out of 95 IHO Member State National Hydrographers* are women.
More information about the project can be found at https://iho.int/en/basic-cbsc-ewh
* 7 countries with women as a national hydrographer: Canada, Croatia, Denmark, Norway, Estonia, Guyana, Monaco
---
Last modified: 07/10/2021 - 15:35