INT Regions and RHCs
INTernational Charting Regions (INT Regions)
The INTernational Charting Regions, as defined in IHO publication S-4 Part A, are shown below. The relevant diagram is reproduced here. The following table indicates which RHCs are concerned in each Region.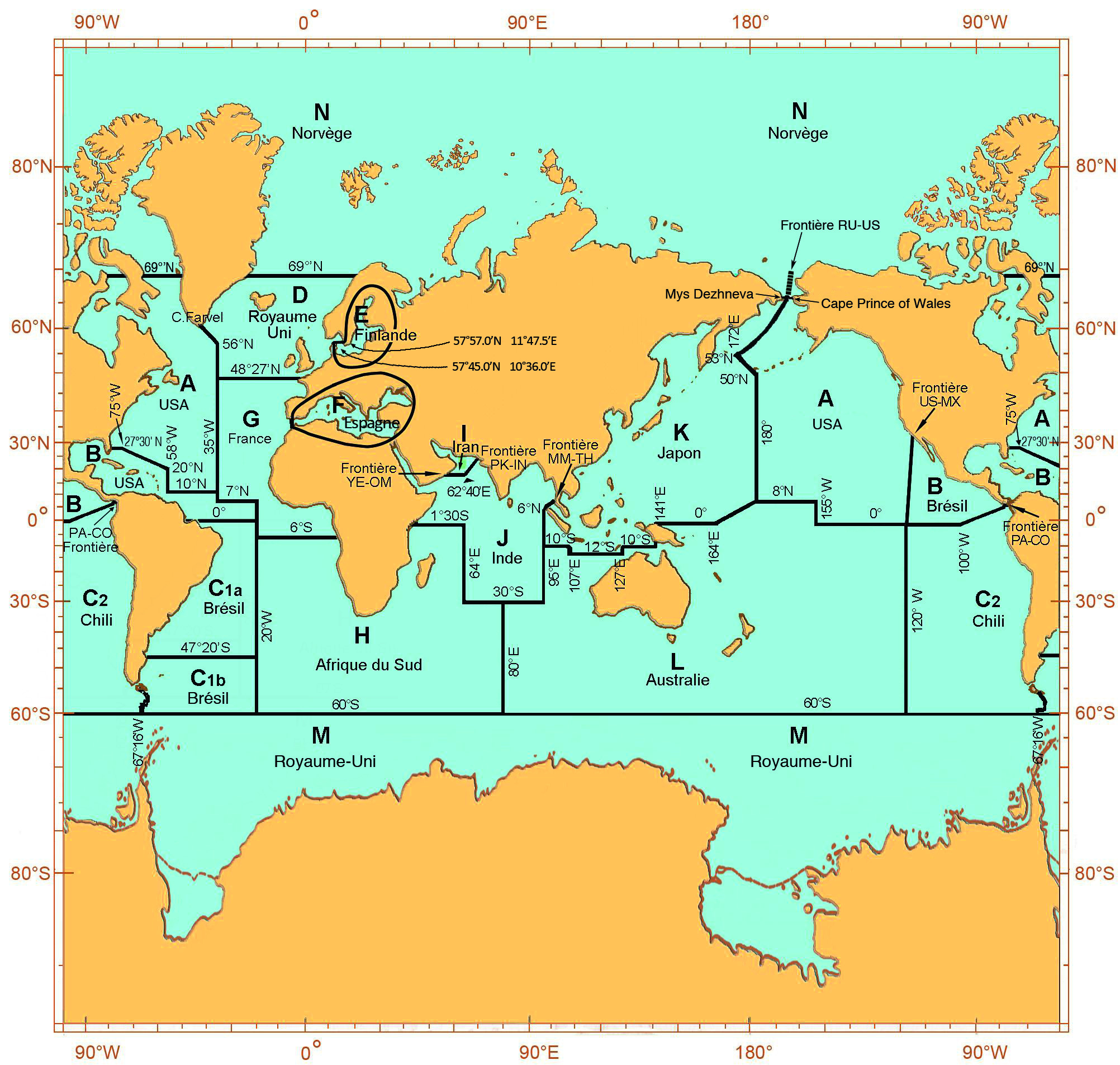 Related Regional Hydrographic Commissions
Region
Région
(USCHC) US/Canada Hydrographic Commission
A
(MACHC) Meso American and Caribbean Hydrographic Commission
B
(SWAtHC) South West Atlantic Hydrographic Commission
C1
(SEPHC) South-East Pacific Hydrographic Commission
C2
(NSHC) North Sea Hydrographic Commission
(NHC) Nordic Hydrographic Commission
D
(BSHC) Baltic Sea Hydrographic Commission
(NHC) Nordic Hydrographic Commission
E
(MBSHC) Mediterranean and Black Seas Hydrographic Commission
F
(EAtHC) Eastern Atlantic Hydrographic Commission
G
(SAIHC) Southern African and Islands Hydrographic Commission
H
(RSAHC) ROPME Sea Area Hydrographic Commission
I
(NIOHC) North Indian Ocean Hydrographic Commission
J
(EAHC) East Asia Hydrographic Commission
K
(SWPHC) South-West Pacific Hydrographic Commission
L
(HCA) Hydrographic Commission on Antarctica
M
(ARHC) Arctic Regional Hydrographic Commission
(NHC) Nordic Hydrographic Commission
N
To assist states to undertake a systematic review of their hydrographic programmes and to identify clearly the major deficiencies in survey coverage, maritime activities are considered within three groupings:
Maritime Shipping Routes (MSRs). A number of RHCs have already taken steps to focus co-operation in hydrographic survey and nautical charting on improvement of coverage of MSRs that pass through their waters. These MSRs are subdivided into 3 categories:
a. international, i.e. routes between hub ports;
b. regional, i.e. routes between hub ports and feeder ports;
c. internal (including inland maritime areas) i.e. routes from feeder ports to other national ports.
Ports and Approaches. There is increasing pressure for enhanced hydrographic data to permit adequate risk assessment for port usage, especially by deeper draught vessels.
Marine Industry (Fisheries, Offshore Resources). Effort in this sector tends to be compartmentalised and valuable data is not shared with the wider maritime community. Scarce assets for charting surveys will tend to be focused in shallower sea areas, and there is a particular need to optimise collection and exploitation of passage soundings and of data from survey activity by other government research or commercial vessels in deeper waters.
---
Last modified: 03/11/2021 - 14:44