IHO-NF GEOMAC Project
Originally started as Japan Capacity Building Project (2009-2013), the Cartography, Hydrography and Related Training (CHART) Project (2014-2019) is now becoming the Geospatial Marine Analysis and Cartography (GEOMAC) project. It aims at providing education programme for young nautical cartographers with cutting-edge knowledge and it is funded from 2020 to 2022, thanks to the generous support from the Nippon Foundation of Japan. This capacity building project has connected the nautical cartography community, currently 104 fellows from 50 countries. The skill and knowledge of this community contributes to solving regional and global challenges beyond the SOLAS obligation.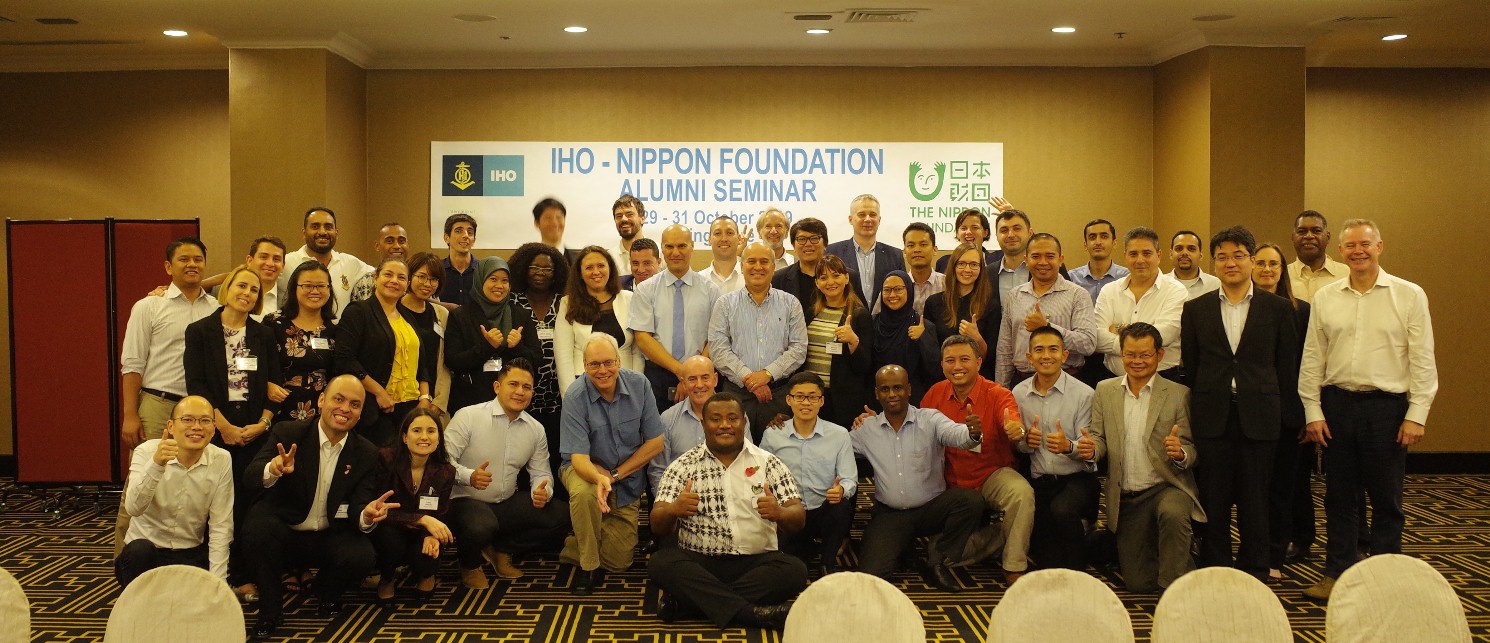 What is GEOMAC Project?
This 20-week programme consists of eight modules varying from two to three weeks and is conducted by the experienced instructors of the UKHO in Taunton (UK) and other institutions.
The Hydrographic Data Processing and Marine Cartography Programme from the United Kingdom Hydrographic Office (UKHO) has been recognized by the FIG/IHO/ICA International Board on Standards of Competence for Hydrographic Surveyors and Nautical Cartographers (IBSC) since 2014 and is the core of the project. Currently, seven participants are selected every year. After completing this programme, participants will obtain the competencies to carry out nautical cartographic tasks at the Category "B" level.
What for?
The purpose of the GEOMAC Project is to provide appropriate education and training in Nautical Cartography for technical personnel in developing countries, to develop and enhance skills and knowledge in navigational chart production (paper and ENC).
In addition, due to the rapid change of technology in Hydrography and Nautical Cartography, necessary competences, skills and knowledge for practitioners has been consistently upgraded and the curriculum, therefore, includes a cutting-edge module for marine big-data management with the utilization of the Artificial Intelligence serving Marine Spatial Data Infrastructures (MSDI) as the realm of Nautical Cartographers.
The GEOMAC also aims to develop a fellowship among the participants in the course to create a human resource network through the alumni of the GEOMAC Project and its predecessors.
Achievement
The impact of the eleven-year achievement of the CHART Project and its predecessor has been quantitatively measured using the IHO Publication C-55 "Status of Hydrographic Surveying and Nautical Charting Worldwide". The countries that have alumni have increased their charting coverage far better than those countries without alumni, as presented in document CBSC17.08.4B.
Choose a subject
---
Last modified: 08/06/2022 - 15:21